Ghyll Scrambling
Ghyll Scrambling
What is Ghyll Scrambling ?
Ghyll Scrambling is a fantastic activity for families or groups, as well as couples, and can be as challenging as you want it to be.
Ghyll Scrambling involves scrambling up or down the gorge, jumping in pools, sliding down slides, traversing rock pools, climbing waterfalls and generally having fun in the water.
Why should I do Ghyll Scrambling with climb365?
We love taking groups Ghyll Scrambling and have been Ghyll Scrambling in the Lake District since 2001.
We have a vast knowledge of the different ghyll venues and how the water levels change and affect safety.
We think ghyll Scrambling is a fantastic activity and work hard to make your ghyll Scrambling adventure as fun and memorable as possible.
We are AALA licensed and therefore able to instruct groups of children and young people under 18 without their parents being present.
Which Ghyll Scramble would suit me and my group?
There are 3 ghylls that are half-day sessions: Stickle Ghyll, Stoney Croft and Church Beck
We offer one full day ghyll: The River Esk
Am I suitable for Ghyll Scrambling
No previous experience is needed. Come ready to have fun and be challenged.
being updated Nov 2020
Suitable age range
5 yrs and up
What's it like?
Climbing and scrambling up the river, using harnesses for safety on the rocky sections. This ghyll has one or two jumps but is mainly about fun scrambling and challenges.
Commitment
This ghyll is quite open and easy to escape from. It will suit a mixed group who might have a range of abilities and wish to mix and match the level of challenge. Very easy for an individual to walk along the side to watch or take pictures.
Location
Based from the Stickle Ghyll National Trust car park in Langdale valley. This is about 20 mins drive West from Ambleside.
Pictures of Stickle ghyll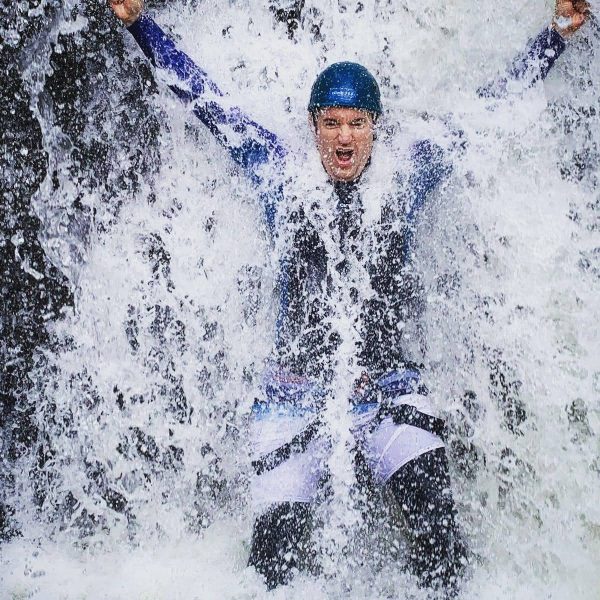 Church beck full-on ace half day
Stoney Croft in the Newlands valley Gorge walking in Stoney croft ghyll, near Keswick, is sliding down ghyll and is great for any groups who want a fun-filled first experience of gorge walking.
Full day canyoning trip Ghyll Scrambling the River Esk is a full day ghyll and has some fantastic jumps and waterfalls. It is definitely for those who are after a challenge and is an experience you will never forget. We call this day out canyoning.
Kit we provide
We provide you with full-length wetsuits.  These are brilliant, very stretchy and fit really well.
We have a wide range of sizes fitting big guys to the little skinny kid in the family.
Also included are a helmet, harness and buoyancy aid.
Do you need to bring anything?
Yes, please bring a swimsuit for under the wetsuit and a  pair of long shorts to go over the wetsuit to protect the seat of the suit and also to give you a bit of dignity.
You will need to bring trainers or walking boots, socks and a big towel for afterwards.
Oh and don't forget some spare dry clothes!!
Prices
Simple
Adult £40 per half-day session.
Child £30 per half-day session (under 18 yrs).
We provide activities sessions solely for you and your friends/family.  You are NOT joined to any other group.
We believe in delivering high-quality instruction just for you, and so we do not club individuals together solely to make extra money. We have found our clients prefer the benefit of the activity being just for them and the personal service this enables. We employ quality staff to run the session for you and so if you are a smaller group there is a slight increase in the cost.
Costs for 1 person add £120 to the per head cost
Costs for 2 people add £90 to the per head cost
Costs for 3 people add £60 to the per head cost
Costs for 4 people add £50 to the per head cost
Costs for 5 people add £35 to the per head cost
No additional cost for groups of 6  people or more.
We find quite a few people combine activities together to make a great day of adventure.
For Example. abseiling in the morning and gorge walking in the afternoon.
To see the other activities click: here
If you book two half-day sessions on the same day you can redeem the "Full day" discount of £10 per person per day. Simply add "full day" into the checkout page to redeem the discount.
All technical kit included.
No hidden costs
We work on a max group size of 1 instructor to 8 clients.
We will provide as many instructors as your group needs.
How to book
To book your own group adventure click: Group adventure activities
We use World Pay to make things safe and as easy as possible for you.
Once you have booked online, you will receive a confirmation email for your booking with all the arrangements for your activity.
If you are wanting to book an activity which starts within 48 hours of the booking date, please call us to discuss availability.
Had an amazing time and Alex was brilliant, especially with my youngest son. Fab experience!
I can not recommend highly enough. Booked for a birthday trip for my husband and two teenage boys.
Will put us all at ease by his professionalism and expertise. He ran through all the safety procedures and was conscious of the social distance.
The jumps varied in height and difficulty and we climbed up a waterfall which was quite intense due to the flow of water. The boys loved the challenge of the bigger jumps into deep pools. I bottled the biggest jump but wills patience was amazing! I'm sorry I didn't do it! He made a climb down which I did do with a smaller jump.
If you are looking for a post lockdown adventure this is the place to go, great communication, great location and staff. Thank you so much!
We signed up for an afternoon of ghyll scrambling and we weren't quite sure what to expect. What we got was a fantastic afternoon – climbing up and down river banks, diving into the water (with wet suits!) and generally challenging ourselves under the watchful eye of Stuart …