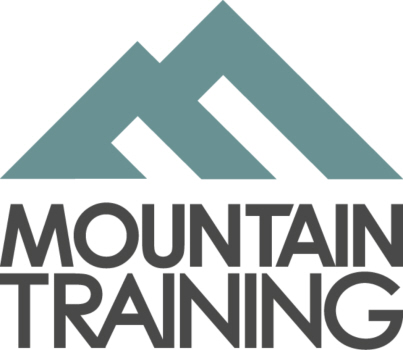 Climb365 has been a registered provider of Mountain Training courses since 2006.
We provide the Mountain Leader, Rock Climbing Instructor and the recently introduced Rock Climbing Development Instructor training and assessment courses.
In addition, Stuart works as one of a small team of regional moderators, quality-assuring and providing advice and support to other providers of Mountain Training courses.
Whilst moderating, Stuart meets a vast number of experienced providers and course directors, sharing up to date information and best practice.  Our courses reflect this level of experience, being rich in content, current best practice and are professionally delivered.
Rock Climbing Instructor training course
This qualification is all about taking people climbing and abseiling on single pitch crags and artificial structures. Whether you're a parent, a volunteer or an outdoor centre instructor, the Rock Climbing Instructor qualification trains and assesses experienced rock climbers to instruct climbing.
Mountain Training registration
You must be registered with Mountain Training to do this course. You must create an account with Mountain Training and register on the scheme. The best way to do this is on the Mountain Training website. Sometimes candidates don't realise that they need to create an account and also register on the chosen scheme.
This video clip runs through all the steps to being registered.
Before you book onto a Rock Climbing Instructor training course, make sure you have done the following:
You must be registered on the scheme.
You must have an up to date logbook (preferably DLOG) with evidence of the following:

15 led routes which must be graded rock climbs with traditional protection.
15 led routes at a climbing wall.
5 led routes which must be outdoor bolt protected sport climbs.
Helpful Mountain Leader links
Rock Climbing Instructor frequently asked questions
Rock Climbing Instructor handbook
Rock Climbing Instructor skills checklist
Support for people with additional needs
Mountain Training is committed to ensuring that everyone has equal opportunity to attend our courses.
Leadership qualifications are equally open to all who can demonstrate their competency outlined in the scheme syllabus.
Please follow this link to read more info: https://www.mountain-training.org/help/resources/support-for-people-with-additional-needs
What is the Rock Climbing Instructor?
Our three-day course covers many skills designed to turn climbers into instructors who are able to motivate & coach rock climbing to a wide range of groups. Over the three days, we focus on group sessions, rigging, abseiling and coaching.
As well as a focus on group instructing skills we also cover the important aspects of personal climbing skills.
Why do your Rock Climbing Instructor training course with us?
We have been a provider of Rock Climbing Instructor (formally known as the Single Pitch Award) courses for many years and we draw on a wealth of experience.  We bring to the course not only a vast level of training and coaching experience but we also run many actual sessions for real groups and so remain really current with hands-on delivery. Running sessions for scouts, schools, young families, beginner climbers, teaching leading and rigging to university students, adult groups, etc. This allows us to stay current and continually assess our course delivery.
As a result of this, we deliver courses that are practical, simple and give you effective skills to develop your rock climbing sessions.
We have spent a lot of time analysing best practice and strive to for excellence throughout our courses.
We aim to deliver courses in a clear and thought-through style, that is progressive and structured and yet flexible enough to allow discussion and new ideas. We understand that candidates have different learning styles and we aim to deliver our courses to reflect this.
Accommodation
We run the Rock Climbing Instructor courses as non-residential. That way we can meet candidates at the crag and spend more time at the venue. Please see this link for suggestions of accommodation.
We do have a friendly dog on our courses called "fly", if you do not like dog's please let us know and we won't bring him along.
Rock Climbing Instructor training course outline
The Rock Climbing Instructor training course has a minimum course delivery time of  24 hours. We run our courses over three full days.
Day 1
We meet at 8:30 am on the morning of the first day and then travel to a crag (venue arranged around the weather).
Day 2
Head into the climbing wall.
Day 3
We will meet at 9 am and head out to a crag to consolidate skills learned over the last two days.
We feel the above programme is the best order of delivery, however, we do find that we change the days around to suit the weather and make the best of the three days.
We want you to be as confident as possible at the end of the course, fully understanding what to practice and build on as you prepare for assessment.
2021 dates coming ASAP
If you have 3 or more people and would like a course to run for you, we can arrange dates to suit, please get in touch.
Rock Climbing Instructor training course cost £240.
Climb365 will cover the cost of your entry into the climbing wall.
You might want to bring some cash for coffee and cake whilst we review and make notes during the course 🙂
How to book
You can simply book online and fill in the booking form all in one go.
We use world pay to make things safe and as easy as possible for you.
Once you have booked online, you will receive a confirmation email for your booking with all the arrangements for your course.
If you would like to email or chat please don't hesitate to get in touch.
Thank you for creating a fun, relaxed, yet professional environment for my RCI assessment last week. I thoroughly enjoyed the course and would recommend Climb365 to anyone. I look forward to taking more courses with you in the future, Chelsey.