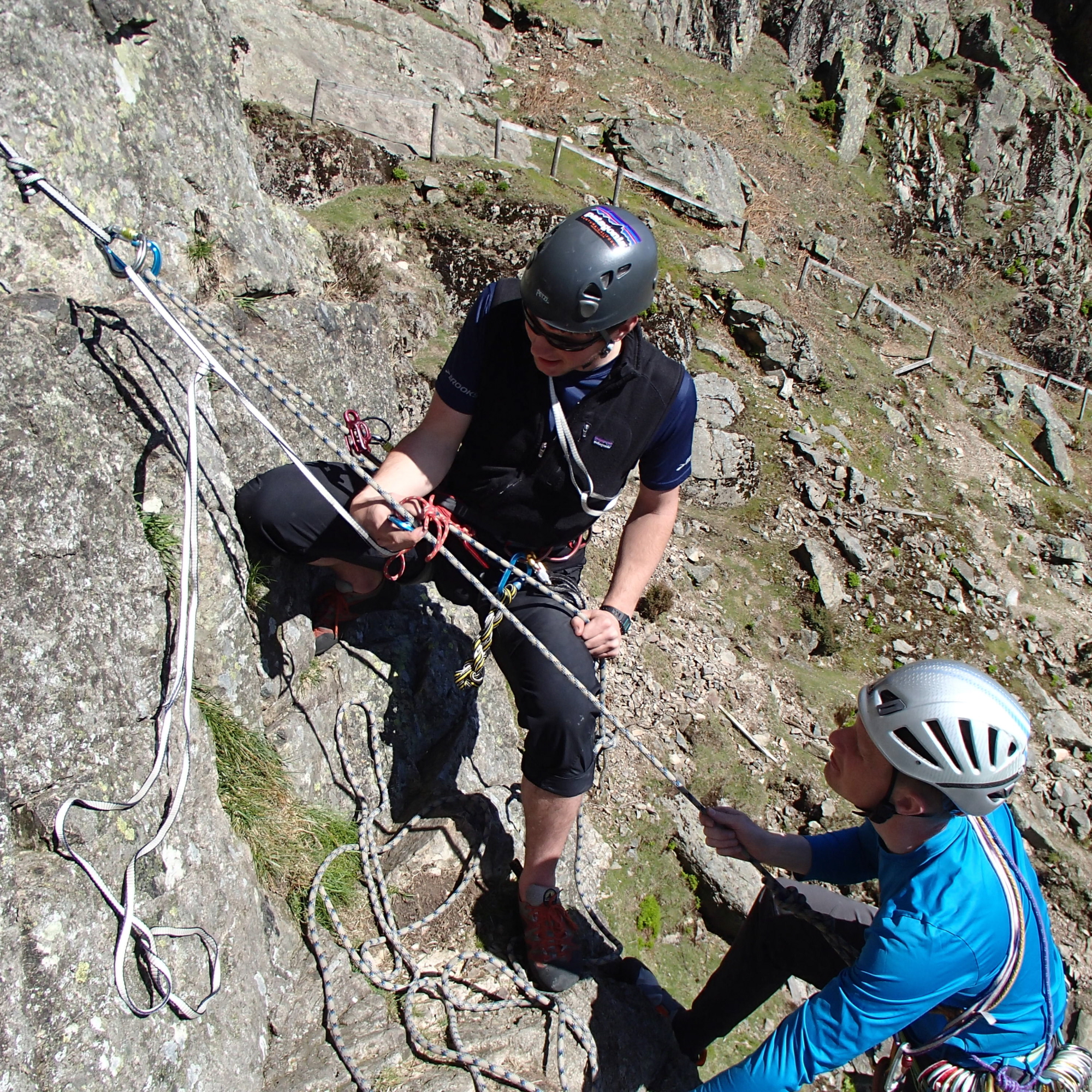 Self rescue for climbers
Why should I do this self rescue for climbers course?
You have climbed outside and lead severe grade.  You want to climb on longer, bigger more committing routes.  Maybe you want to climb on sea cliffs.
What does this course cover?
We cover many skills from how to rig a safe abseil into a sea cliff, to how to escape the system and go for help.
We will chat to you and find out what you already know and take you from there.
Many simple systems and skills can help you out of a difficult situation.
Some of these skills include:
assisted and unassisted hoists. Prussiking up and down ropes. Tandem abseiling.
What do I need to have done before?
You must be a competent climber at grade severe or higher.
Who else will be on the course?
We run this course at a 1:2 ratio due to the technical nature of the terrain and routes we will be.
Kit we provide.
We provide all technical kit for the activity.  We would advise you to bring your own lead rack and ensure you have good working 6mm prussiks and maybe a rope man.  Contact us prior to the course for more info.
What do I need to bring?
You will need a packed lunch, waterproofs, spare jumper, walking boots or similar and rucksack.  Rock boots harness helmet and your normal outdoor leading kit.
Dates
We offer this course on dates to suit you. Therefore can tailor each course to your experience level.
We offer this as a 1-day course but we can easily make this longer.
Please get in touch to chat through how long you would like to spend.
Course cost:
This course can be run on a 1:2 ratio, Current Prices
The course is non-residential and here is a list of suggestions for accommodation to suit every pocket.
You will need to travel to and from the course but we can provide transport during the course.  We, therefore, suggest you book accommodation in, or near Ambleside.
We take all booking as a private guiding/instruction. This is so that we can book you in for your tailored booking.
You can simply book online and fill in the booking form all in one go.
We use world pay to make things safe and as easy as possible for you.
Once you have booked online, you will receive a confirmation email for your booking with all the arrangements for your activity.
If you are wanting to book an activity which starts within 48 hours of the booking date, please call us so that we can process your booking on the phone. This will ensure you don't miss out and can have a great time on the activity.
If you would like to email or chat please don't hesitate to get in touch.
[/fusion_builder_column_inner][/fusion_builder_row_inner]